Creating a decluttered workspace, free from wires is a distant dream for many.
Especially when you have to play Tug of War (a.k.a. Rope pulling) with wires every day to keep the devices at the place. 🙂
But you need not worry as Rs. 1000 is enough to get you a proper Wireless Mouse and Keyboard Combo.
You just need to identify your broad usage and then pick your perfect combo from the list of Best Wireless Keyboard and Mouse Combo under 1000, that I have compiled here.
Best Wireless Keyboard and Mouse Combo under 1000 for Laptop


If you are looking for an alternative to your Laptop Keyboard (because your Lappy's keyboard is dead or you want to keep it alive 😉 ), then Dell Km117 Wireless Keyboard Mouse is Best Wireless Keyboard and Mouse Combo under 1000 for you.
The Chiclet keys this keyboard offers completely resembles your laptop's keyboard so you wouldn't feel any difference whatsoever while working.
What's more? You get a full-fledged number pad along with mixed multimedia keys(Some dedicated and some in conjunction with Fn key). However, the keyboard misses Num lock and Caps lock indicator keys which may cause a bit of inconvenience while working.
The mouse offered with the combo is a nice regular-sized mouse with 3 buttons. It is made with quality plastic with a matte finish on the surface.
The Dell Km117 Wireless Keyboard Mouse combo is compatible with Windows, Mac OS and Linux OS so compatibility is not a problem here.
The keyboard in the combo takes in 2 AAA batteries while the mouse runs on a single AA battery. And they are estimated to keep this combo running for 12 months as declared by the manufacturers.
Best for Desktop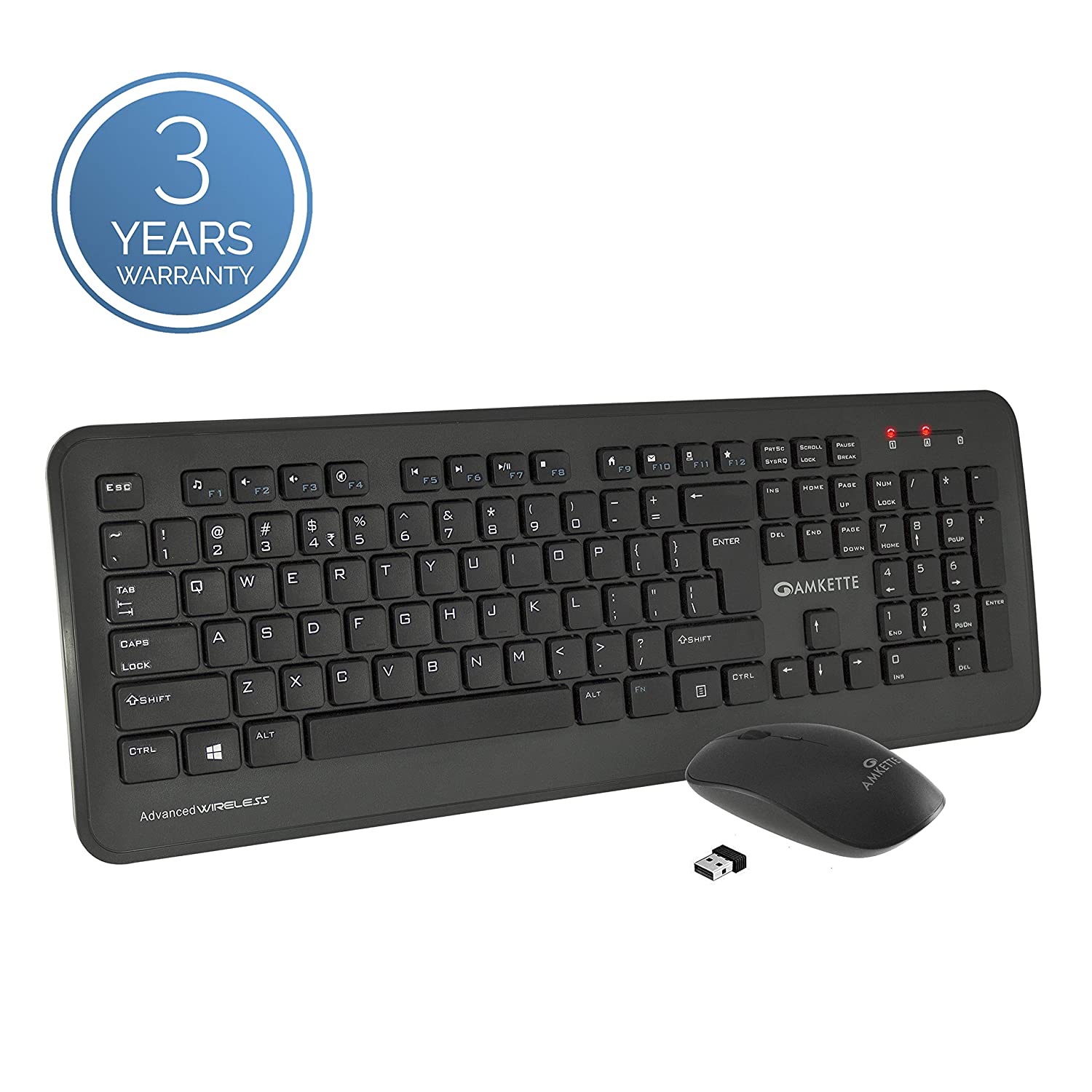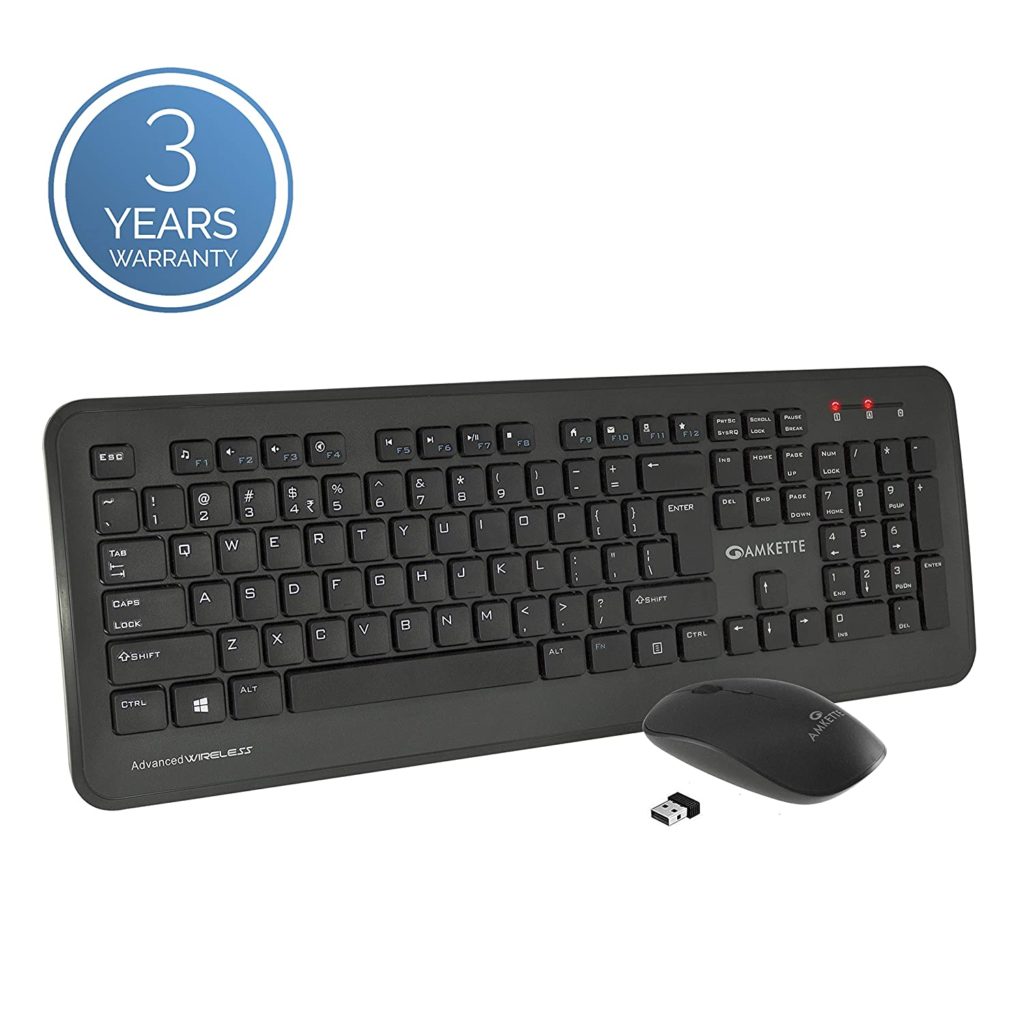 Owning to Caps and Num lock indicators and a whopping 3 years warranty, Amkette Wi-Key Plus becomes the Best Wireless Keyboard and Mouse Combo under 1000 for your desktop.
The keyboard is slim and sleek yet has all the keys including the Number pad. The keys are not as soft as on the Laptop but are soft enough to give you a decent feel while working on it.
Moreover, the keyboard also features 12 Multimedia keys clubbed with function Keys. To access Multimedia function, you simply need to press the required Function key in combination with the Fn key.
The mouse that comes with the Amkette Wi-Key Plus combo is a regular-sized mouse with a premium matte finish.
Apart from left, right and scroll button, it also features a DPI customizer button which allows you to adjust sensitivity between 3 DPI levels i.e. 800, 1200 and 1600. This feature is especially useful for Gamers and Graphic Designers.
The combo works on Wireless 2.4 GHz technology and gives you a working range of 10 meters.
Best Multimedia Wireless Keyboard and Mouse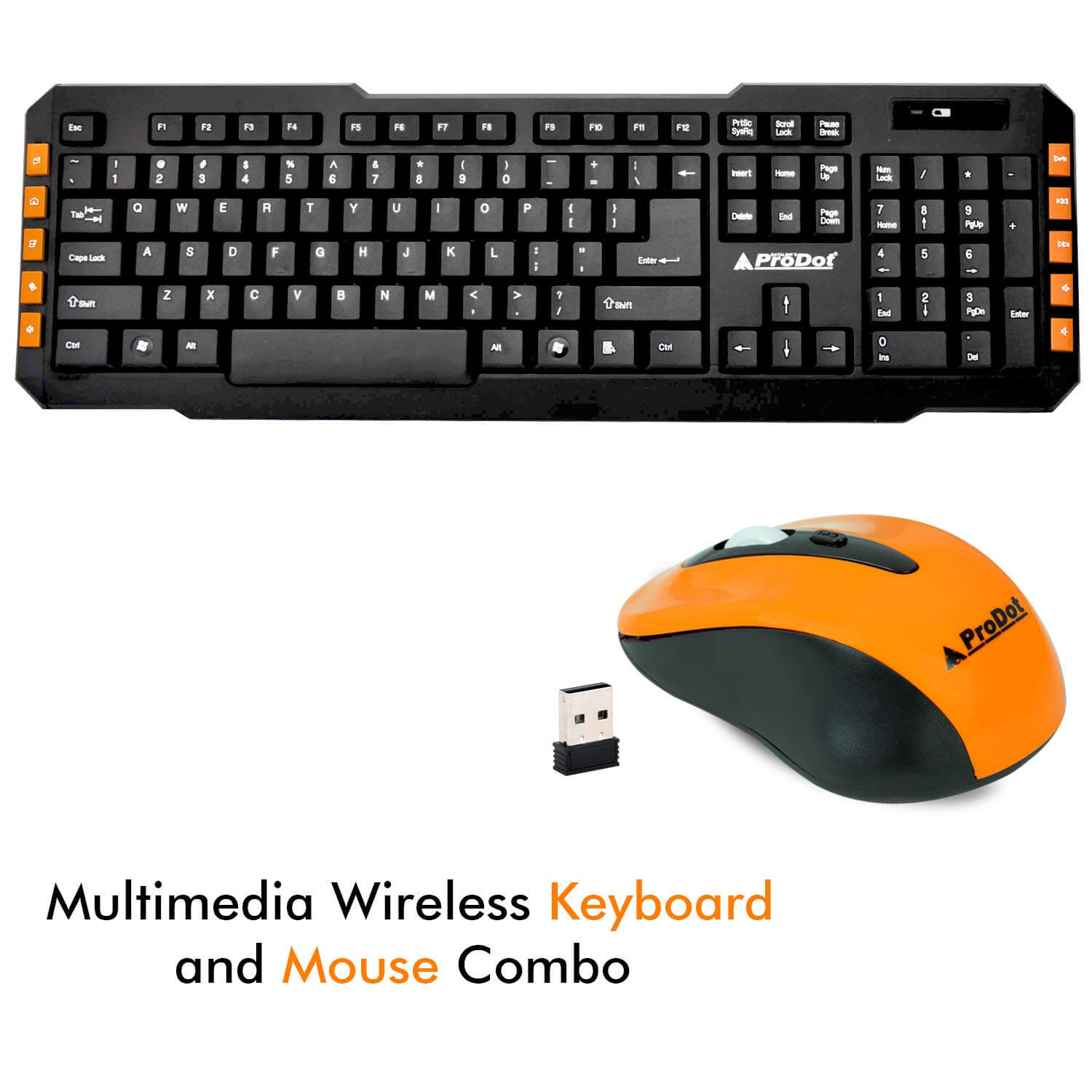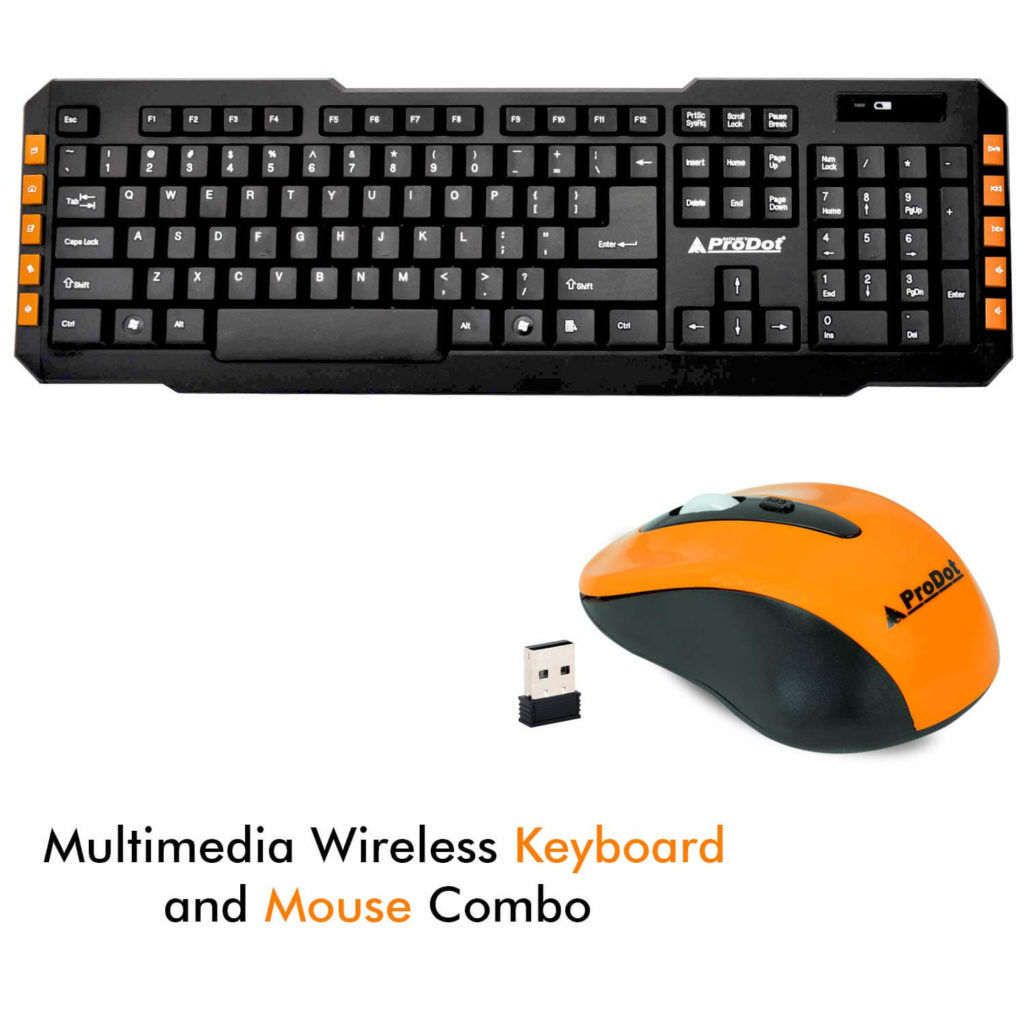 ProDot TLC-107+145 Is the best Multimedia Wireless Keyboard and Mouse Combo you can get under 1000.
The keyboard is a full-sized one with the number pad and 10 dedicated multimedia keys that make playing media and work really easy. The keys are normal soft keys and the keyboard is preferred for work that involves rigorous typing.
The mouse is normal in size and comes with a dedicated Dpi control button. However, the scroll button looks a bit weird because of its white colour; but that does work flawlessly. So no complaints on functioning.
Both the mouse and Keyboard run on Wireless 2.4 GHz technology and you can work up to 10 meters away from your computer. (If you can still see the monitor. 😉 )
ProDot TLC-107+145 combo is compatible with Windows, Mac OS, Linux and Chrome OS. So you need not think twice about the compatibility.
You also get free antivirus by Prodot for 1 PC for a year. You may find this deal beneficial if you don't have an antivirus subscription or you have just finished assembling your PC.
Best Cheapest Wireless keyboard and mouse under 1000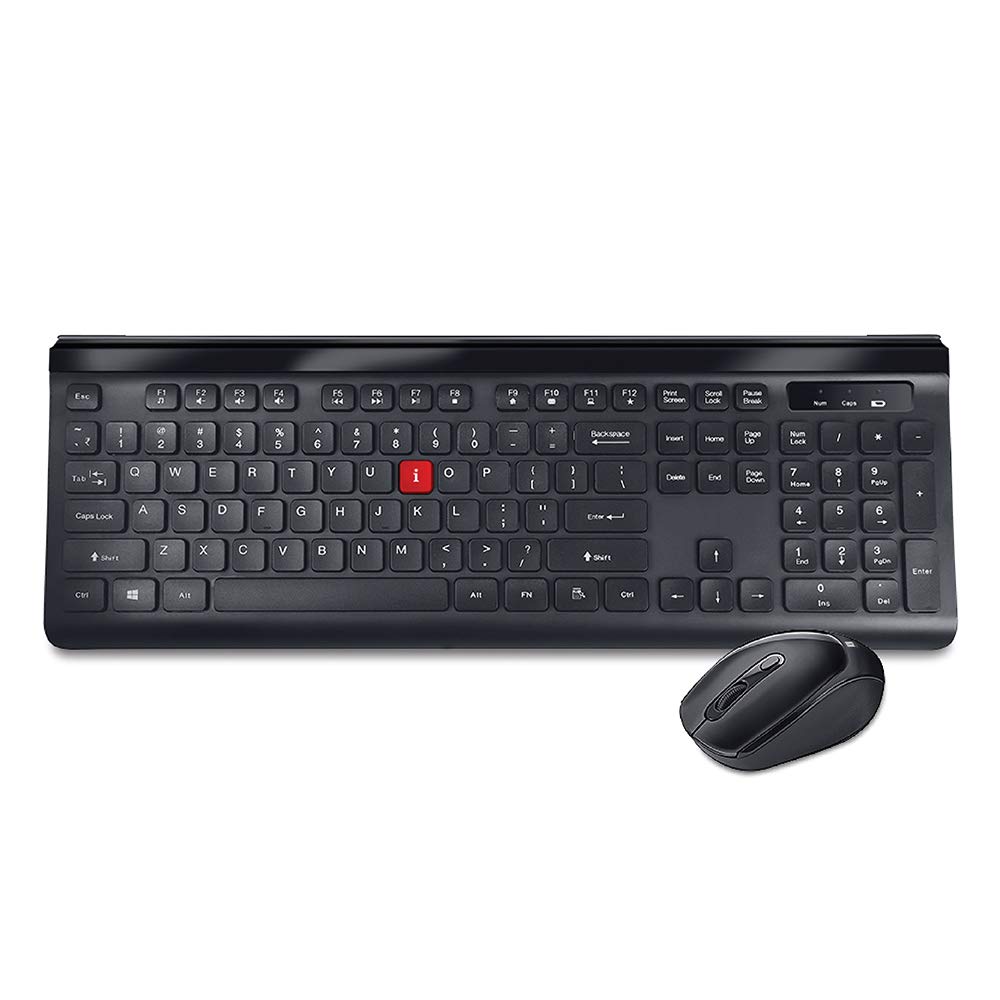 iBall Magical Duo 2 is the cheapest Keyboard and Mouse combo available under 1000 rs in India, but it still has all the features required in day to day working.
Both the wireless Keyboard and Mouse run on 2.4 GHz wireless technology and offer a working range of about 10 meters.
The Keyboard in the combo is a full-fledged one with a numeric keypad and it has the laptop like chocolate keys. It also has the rupee symbol (₹) so you will not have to manually programme it on your keyboard.
Also, the Keyboard comes with Numlock, Caps Lock and Battery indicator light which is a treat at this price point.
The Keyboard also has multimedia keys clubbed with Function Keys. The Multimedia functionality that can be accessed by pressing the required Function key along with the Fn key.
The mouse is a regular-sized one with 3 buttons. It also has a dedicated dpi button which lets you control the speed of the cursor and make finer movements on the screen.
While the keyboard is run by 2 AAA batteries, the mouse takes in 1 AA battery. All the batteries are initially provided in the box with purchase.
Though no information is available for the battery life, it is estimated that provided batteries can run the combo for about a year before requiring replacement.
Best wireless keyboard and mouse under 1000 For Smart TV/ travellers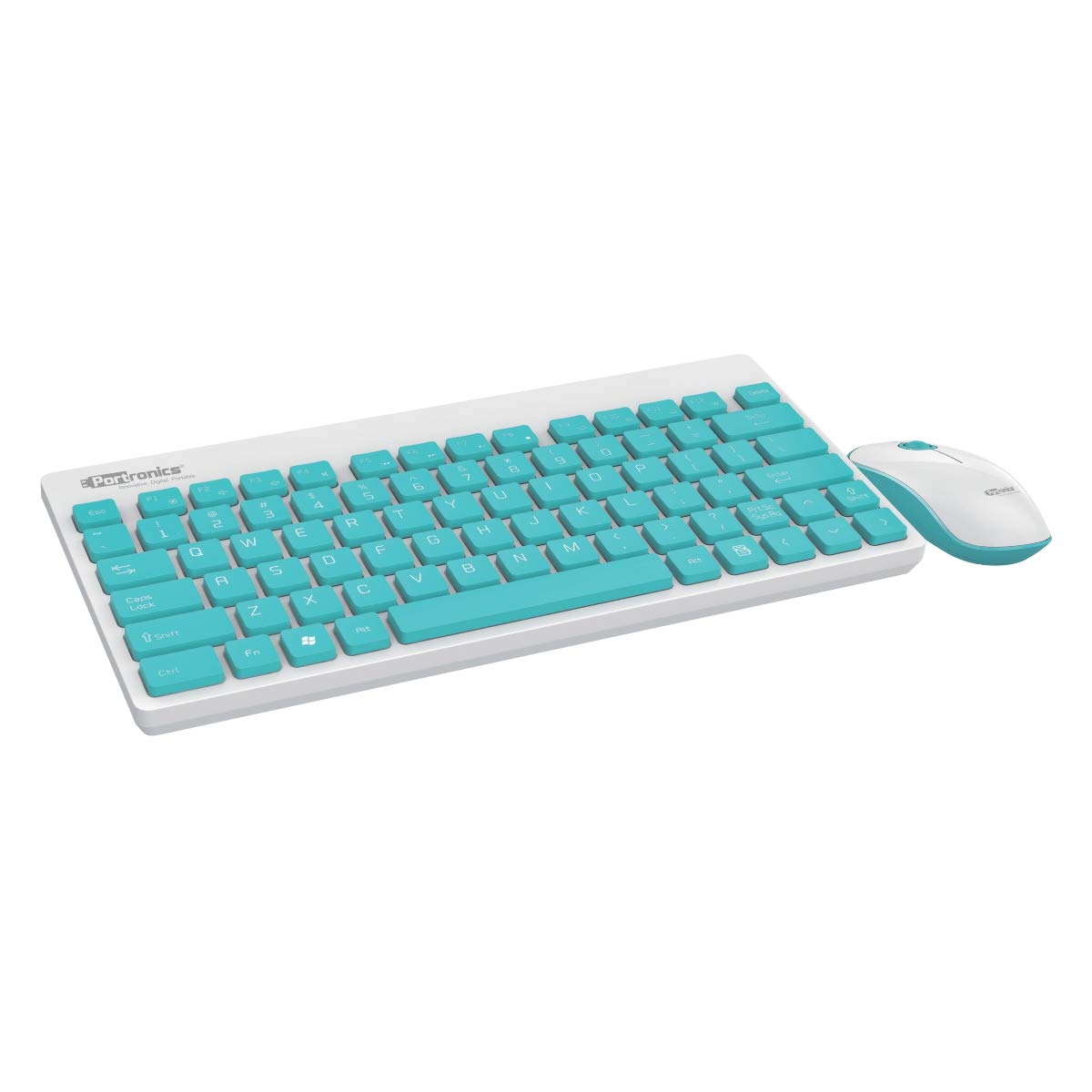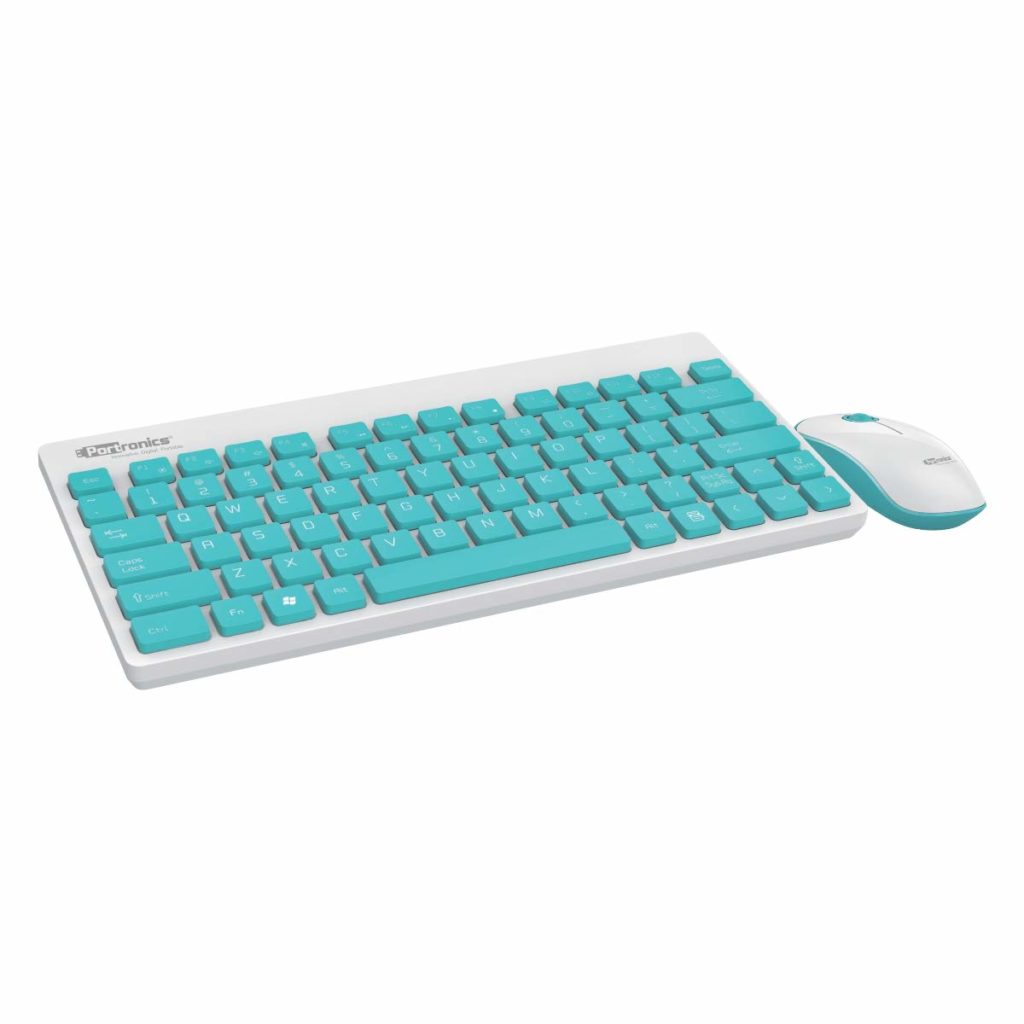 At only 1.5 cm thick and 336 grams heavy, Portronics Key2-A Combo is a prefered choice for your smart TV and for people with frequent travel needs.
The keyboard doesn't have a numeric keypad and while it contains multimedia keys, they are clubbed with Function keys and you have to use the Fn key to use the multimedia functionality.
The mouse that comes with this combo is of regular size and comes with a slightly different scroll wheel. However, you will not feel any problem in using this scroll wheel.
Both the mouse and Keyboard use AA batteries to keep themselves powered. And both the devices go to sleep after 3 minutes of inactivity. This feature drastically improves battery life and causes lesser inconvenience on your part.
I suggest this keyboard for functions other than PC and laptop because, in order to make the keyboard compact, the keys are a bit more clubbed with each other. So while it offers great portability, it is not a replacement for your regular workhorse (a.k.a. Keyboard ).
Things you should consider while buying Best Wireless Keyboard and Mouse Combo under 1000
Caps lock and Num lock indicator-
While buying the Wireless Keyboard and mouse combo, take a look if the keyboard the combo offers has Num lock and Caps lock indicator lights or not.
Often, companies skip these indicator lights to reduce costs and increase battery life. But this feature is really important if this combo is going to be your primary (and only ) input device to your computer.
However, If you are buying a combo for your Laptop or Smart TV, then you can ignore this feature. As on Laptop, you've already got indicator lights; and on a Smart TV, you typically don't need to write much.
DPI switch on the mouse-
Dpi switch allows you to work more precisely on your projects or have a competitive advantage while playing games. If you are a gamer or designer, then you must not compromise on this feature.
Compatibility-
Needless to say, your mouse should be compatible with your PC or laptop's Operating System. Not all the models out in the market support Mac OS, Linux and Chrome OS. So keep your eye open when pulling the money out of your pocket.
Price-
In this case, we know you want the best Wireless Keyboard and Mouse Combo under Rs 1000.
Type of keys on Keyboard-
If you are a fan of Laptop-like Chiclet keys, then go for a variant that offers that kind of premium keys.
Or if you are like me and like old-school soft eys that can bear hard-hitting, then go with regular soft keys Keyboard.
FAQs:
Q1. What is DPI? and why should I care?
Ans. If you are a designer or gamer (or Wannabe), then this functionality needs to be present on your mouse. DPI switch allows you to control how far your mouse cursor moves when you move your mouse by 1 inch. The lower the DPI the higher the precision and so on.
If you would like to know more, check this article here. They have covered DPI in good detail.
Q2. Where is the USB Adapter in the mouse Located?
Ans. The USB adapter that connects both your Mouse and Keyboard is often placed inside the mouse, near the battery slot. This ensures the tiny piece of hardware is not misplaced while packaging and delivering.
It also allows you to carry the combo anywhere you desire without risk of losing the adapter.
Q3. Which type of keys is better if my work requires a lot of typing?
Ans. If your work requires you to type a lot, then I must recommend you normal soft keys. Because unlike laptop like chiclet keys, they last long (and you can hit them hard without thinking about their delicateness 😉 ).
Conclusion:
Here I have listed 5 Best Wireless Keyboard and Mouse Combo under 1000 rs that are available in India right now. These serve 6 different purposes for which you want to buy the combo.
(BTW, for which purpose you are looking to buy the combo. Do let me know in the comments below.)
Also, if you are still confused, then let me help you. If I would have to choose a single best in all the combos under 1000, then I would have chosen Amkette Wi-Key Plus Combo as I am getting (almost) every good thing in the combo.
Share this article with your friends if they are looking to buy this kind of Combo.
And Finally, Thanks for Reading.